How You Can Help
Many people support the work of Menzies Caring for Kids.  There will always be the need for generous financial support, such as yours, for the benefit of some of the most disadvantaged children in our community.
Menzies Membership
If you would like to be kept informed of how Menzies is contributing to the lives of disadvantaged children in Frankston and the Mornington Peninsula, please complete the membership form below. 
Menzies Membership is $20 per annum, which helps to cover the administration and postage costs for our communications
We also offer a Menzies Member for Life membership option for the once-off membership payment of $300
 

Click here to download the Application for Membership
Leave a Bequest
Remembering Menzies Inc in your Will To make a bequest, the following wording may be added to your will:
"I give and bequeath unto Menzies Inc the sum of $____________ (or percentage or residue of my estate as appropriate) to be used for its work amongst children and families in necessitous circumstances".

Specific Bequest option: "I give and bequeath unto Menzies Inc (insert address of the property, details of shares, life insurance policies, bank accounts, or other assets) to be used for its work amongst children and families in necessitous circumstances".
Fundraise
Menzies Inc engages with many community groups who assist us to provide our services to disadvantaged young people. Community Fundraising is a program that assists you to support us by running your own event on our behalf. We have Community Fundraising Guidelines that help you as the fundraiser to communicate your event plans with us and to monitor your activities in accordance with the Guidelines. We want to help you make a difference!

Here are some different ways you can help us raise some much needed funds:

* Walk/Run or Bike-a-Thons
* Car washes
* Sales of products
* Calendar sales
* Private parties
* Comedy nights
* International theme dinner parties
* Auctions of all kinds
* Raffles
* Jeans or casual dress days (at work or school)
* Yard sales
* Car Boot sales events
* Movie Nights
* Art Show and sales
* Meet-a-celebrity events
* Open days with gold coin donation
* Theatre shows, one night's takings go to Menzies Inc

These ideas are just suggestions! The next time you think of having a special event, why not think of the proceeds going to local disadvantaged young people? Call Menzies Inc on (03) 9784 9700 to discuss how you can support disadvantaged children through a Community Fundraising idea.
Workplace Giving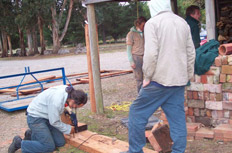 Workplace Giving is the process wherby you as an employee make regular donations to charities through your employer's payroll system. As an employee you can nominate an amount you wish to give from your salary each month – no matter how small. A few dollars per month is significant to a charity, especially when multiplied by a substantial number of employees. What's more, the donations provide a steady income, allowing charities to more effectively plan for funding their long-term programs.
Menzies is a participating organisation of The Australian Charities Fund (see link below). Donations to Menzies Inc through Workplace Giving are assisted by our participation in their program.
Many organisations struggle with their fundraising efforts needed to fill the gap between government grants and actual costs to deliver their services. Menzies Inc is no exception. Workplace Giving enables employees of any workplace to make regular contributions to Menzies Inc in an administratively simple and low cost manner and with no cost to us. All donations made this way are tax deductible for you in that they are deducted automatically from your gross income prior to tax being taken out of your pay. You do not need to keep receipts or claim this on your tax return; it happens instantly, a real bonus for people who wish to give in an affordable, tax-effective manner.
Matched Giving
Employers may choose to match employee donations or donate a specified amount. The system is flexible. The Australian Charities Fund is able to tailor the program to the specific needs of the employer organsiation. Workplace Giving also encourages businesses to give pro bono and volunteer assistance to their supported charities. Productive community oriented partnerships are mutually beneficial to both business and charity, helping employers to boost morale. If you wish to discuss any aspect of this type of giving contact Menzies Inc: (03) 9784-9700. For further information on Workplace Giving programs in general, contact :
The Australian Charities Fund
Corporate Sponsorship
Corporate Sponsorships create many mutually beneficial opportunities for your organisation, your staff and the people who will ultimately benefit from your involvement. When you become a Corporate Sponsor you strengthen community ties vital for the survival of organisations like Menzies Inc. You enhance your public profile and raise awareness among your staff of your commitment to alleviating hardship in the lives of others. This can have a very positive impact on staff morale in your company.
How You Can Become A Corporate Sponsor:
Cash Sponsorship
In-Kind sponsorship of goods or services
Corporate Volunteers
Workplace Giving
Corporate Golf Day or other fundraising event
If you would like to find out how your organisation can help, phone 9784-9700.